Reverence Hotels
4 Reasons to book at
Pre Check-In Online

{{hotel.nombre}} guarantee

Reverence Club Benefits

{{hotel.nombre}} official website

Best price online guaranteed!

Best price online guaranteed!

Exclusive offers

Exclusive offers
CULTIVATING OUR PASSION FOR SERVICE.
Reverence Hotels Official Website
CULTIVATING OUR PASSION FOR SERVICE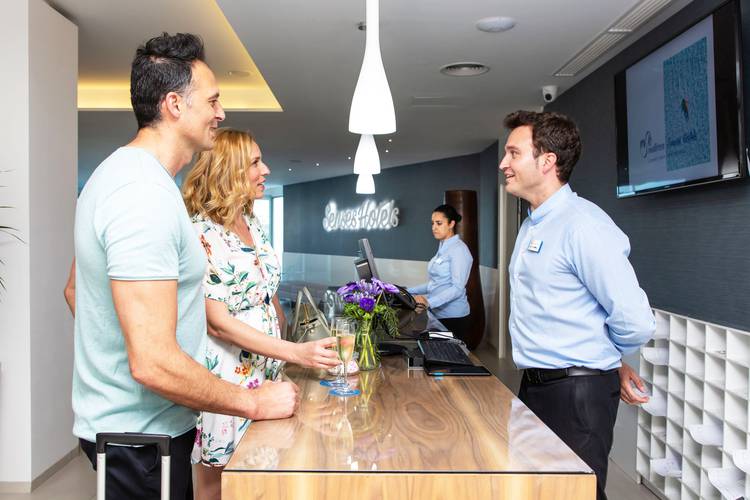 At
Reverence Hotels
we are fully aware that our core essence is to welcome our clients and do everything in our power to provide them with the best possible stay with us. For this reason, we are constantly working to improve our services, and this involves training courses to reinforce our brand values.
One of the values of
Reverence Hotels
is our passion for service. All the people who are part of the company feel it, and it is precisely this passion for service that makes us want to become better professionals day after day. We have been recently working with the expert consultancy firm GET21 in order to reinforce our commitment and to become aware that our clients choose us among many other options because they want to live a dream with us. They choose us because they believe our hotels are the perfect setting for the holidays they have planned and dreamed of for many months.
It is fundamental for the whole team to know what our clients expect from us, and to be aware that good manners are not enough, that they expect us to become emotionally engaged to make their stay better. It is not enough that the food is good, or that the coffee is extraordinary, or that the rooms are perfectly prepared, taking care of even the smallest detail...
At Reverence Hotels it is also essential that everything is prepared and served with a smile
, always with a kind and helpful attitude. We often sum it up by saying that our goal is for the customer to remember us with a smile. And for this, there is nothing better than smiling, because it is certainly an attitude that is contagious and makes us happier.
Volver