Reverence Hotels
4 Reasons to book at
Pre Check-In Online

{{hotel.nombre}} guarantee

Reverence Club Benefits

{{hotel.nombre}} official website

Best price online guaranteed!

Best price online guaranteed!

Exclusive offers

Exclusive offers
Majorca's lighthouses, the light that will never go out.
Reverence Hotels Official Website
Majorca's lighthouses, the light that will never go out
Experiences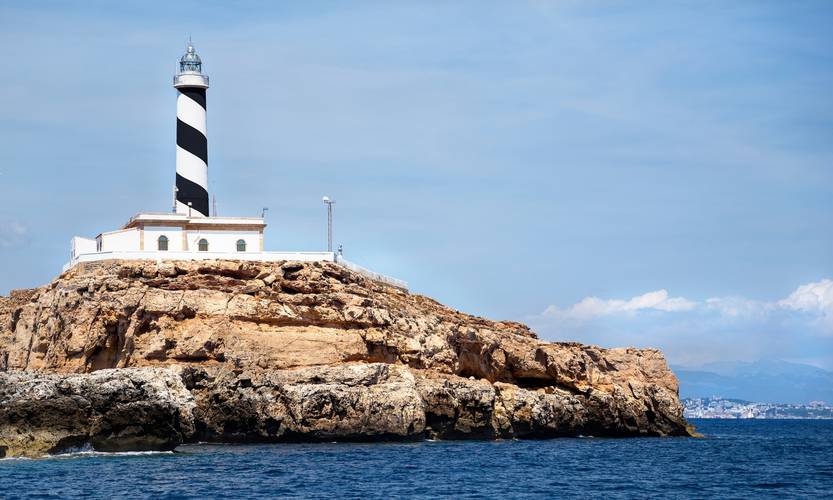 The hotels of
Reverence Hotels
are just a few metres from the sea, next to the coast. That is why we would like to talk to you about some remarkable constructions that are full of history: lighthouses, those silent sentinels that kept vigilant watch and guided seafarers.
The closest lighthouse to
Reverence Mare Palmanova
is the Cala Figuera lighthouse, which was inaugurated on 31st July 1860 and designed by Emili Pou. The closest to
Reverence Life Santa Ponsa
is the much more modern Sa Mola lighthouse in Andratx, which was inaugurated in 1974.
Majorca is home to a total of 14 lighthouses, each with its own history and yet all connected by the sea and seafaring. But one that stands out above the rest is the Portopí lighthouse in Palma, which was already mentioned in a document included in the will of King James II of Majorca kept at the National Library in Paris.
The lighthouse was not where it stands today, but on the hill now occupied by the Fort of San Carlos, which was completed in 1612. Since the lantern's glass shattered when the cannons of the newly built fort were fired, there was no choice but to move the lighthouse to a different location. The structure was eventually relocated in 1617 and has been standing on the Signal Tower ever since. The name of the tower goes back to the 15th century, when – even before becoming a lighthouse – it was used to place balls that indicated the origin and number of the ships entering the port. The Portopí lighthouse is the second oldest in Spain and one of the oldest functioning lighthouses in the world.
Its light was switched off in August 1972 given the growth of the port and the existence of a comprehensive beaconing network. However, it was switched back on again in April 1977 in view of its historical importance. Later, in August 1983, it was declared an Artistic and Historical Monument. Today the structure houses a small museum on the history of lighthouses in the Balearic Islands, maritime signals and lighting systems.
A visit to the lighthouses is a fun activity and also a great way of getting to know what life was like on the island not so long ago
, when sailing had nothing to do with a GPS. It is a fascinating journey back in time, a way to explore our not so distant past before technology took over.
Volver