Reverence Hotels
4 Reasons to book at
Pre Check-In Online

{{hotel.nombre}} guarantee

Reverence Club Benefits

{{hotel.nombre}} official website

Best price online guaranteed!

Best price online guaranteed!

Exclusive offers

Exclusive offers
Reverence Hotels partners with Fundación Shambhala.
Reverence Hotels Official Website
Reverence Hotels partners with Fundación Shambhala
CSR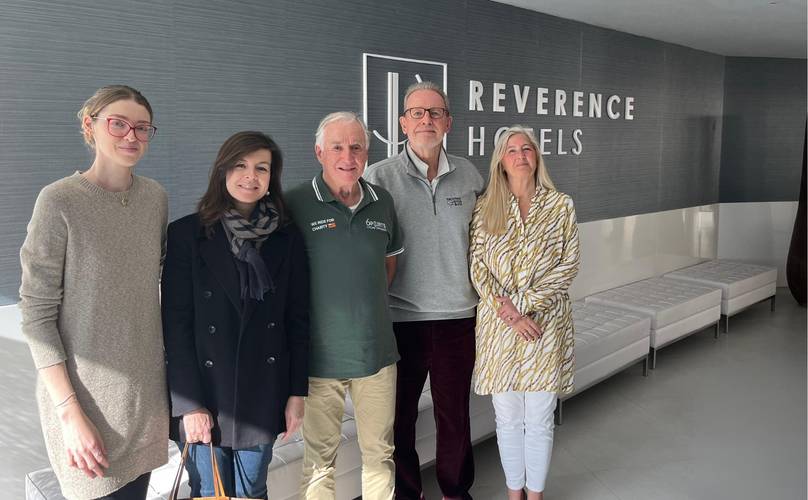 Upholding our social commitment,
Reverence Hotels
is now collaborating with
Fundación Shambhala
, a non-profit organisation that aims to help young people aged between 18 and 25 so that they can reach their full educational, physical, intellectual and social potential by promoting their participation in four integrated programmes: education, physical activity, counselling and community service. The main goal is to inspire and support young people so that they learn to respect themselves and their environment, and become mature and responsible adults.
Reverence Hotels'
is part of the partnership that we have been developing with
6Points
for years, a cycling event initiated by Brian Visser to raise funds for local charities and social work associations while riding the roads of Mallorca. They have managed to raise more than €159,000 since their first 6Points event back in 2017.
Last Monday, and coinciding with the start of the season at
Reverence Mare hotel in Palmanova
,
Reverence Hotels
CEO Ana Nadal met with María Bennàssar, an educator from Fundación Shambhala, 6Points founder Brian Visser, and the people behind Yachting Gives Back to promote this new partnership.
Ana Nadal stressed, "
Reverence Hotels
is a family business, with very specific values, committed to the community and with a clear customer focus. Apart from providing accommodation and the best service to our guests, we also want to actively engage in the creation of a fair society. That is why we support the work carried out by Fundación Shambhala, because thanks to them many young people will have a better future."
María Bennàssar added, "Fundación Shambhala came into existence as a result of the awareness of the growing difficulties that many youths are facing on the island, individuals who are on the wrong path due to adverse circumstances. We have been driven not only by a sense of humanitarian responsibility to help the most vulnerable, but also by the fact that their actions will certainly have an impact on the behaviour of all those around them."
Volver