Reverence Hotels
4 Reasons to book at
Pre Check-In Online

{{hotel.nombre}} guarantee

Reverence Club Benefits

{{hotel.nombre}} official website

Best price online guaranteed!

Best price online guaranteed!

Exclusive offers

Exclusive offers
We are changing to give you the best experience.
Reverence Hotels Official Website
We are changing to give you the best experience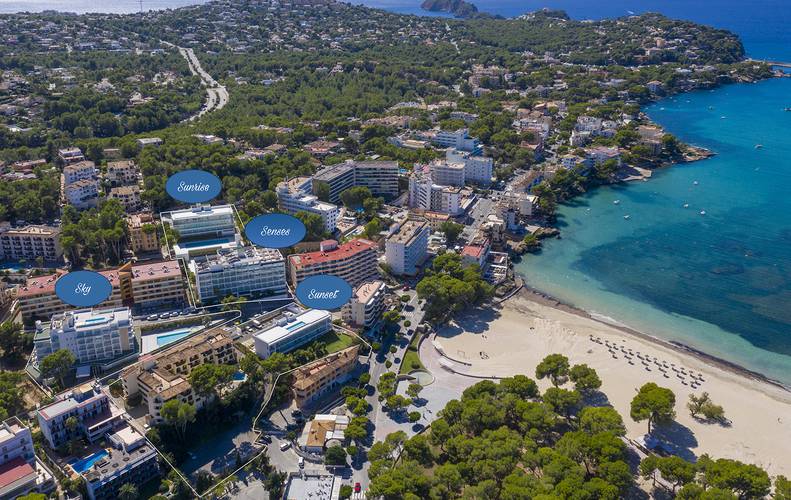 At
Reverence Hotels
we are constantly working to provide the best customer experience possible. We have a real passion for service, and everyone in the team is aware that the days you spend with us are very important and that you want to enjoy them fully, detail by detail.
That is why, for the next season, we have made a change that will undoubtedly improve the experience of our guests in our Santa Ponsa hotel. We have merged two of our locations to create a single hotel only for adults, which is made up of four buildings:
Reverence, Sky, Sunrise and Sunset
, all next to the famous beach of Santa Ponsa, in a privileged setting.
As a result, we have significantly increased the options and services we provide to our clients. For example, they will now have the possibility to enjoy eight different swimming pools — of which six are outdoors, three have a swim-up area and one is semi-Olympic. Two pools located on the upper terraces of the Sunset and Sunrise buildings offer breathtaking views of the landscape (sea, pine groves and mountains) and are for the exclusive use of our Premium rooms. An outdoor pool on top of the Sky building with panoramic views and two indoor swimming pools in the
Reverence Wellness & Spa
, next to the gyms of the hotel complex.
The Reverence building houses the reception, the lounge bar, as well as a breakfast and dinner restaurant, a poolside snack bar and a meeting room.
The Sky building has an indoor swimming pool for all guests, a multipurpose room, a conference room, a snack bar next to the Reverence Wellness & Spa pool and a restaurant for breakfast.
The Sunrise building includes the Premium rooms overlooking the pool, a gym, the Reverence Wellness & Spa and a conference room. It also offers guests staying in its rooms an indoor pool for exclusive use.
Finally, the Sunset building houses Premium rooms with a side sea view, a car park, a bike station and also a rooftop pool for exclusive use of the guests accommodated in this building.
With the creation of this complex, all our clients will have free access to the Reverence Wellness & Spa, with indoor swimming pools, whirlpool, hydrotherapy, saunas, Turkish baths, Scottish showers and treatment cabins.
The creation of the new
Reverence Life, Santa Ponsa (Adults Only)
also broadens the options in terms of our restaurant service, which is known for its excellent cuisine, both in our buffet restaurants and in our Gourmet Snack Bar. In all the restaurants our clients will be able to enjoy delicious dishes and theme-related food.
Volver